Test Solution Services for Testers Manufactured by Cloud Testing Service Inc.(CTS)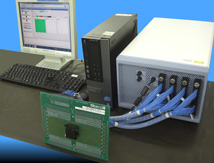 CTS's CX1000D
OKI Engineering provides one-stop solutions for developing test programs for CTS's testers such as CX1000P and CX1000D, manufacturing jigs, evaluating, analyzing, and transferring from a conventional tester environment to a tester environment with CTS's testers. We also offer a tester rental service.
CTS's CX1000P and CX1000D allow CloudTesting™Service(CTS)*1 -- a new testing service with IT cloud computing -- to be a flexible and fast testing service in which the concept of a test system changes from "owning a tester" to "using a testing IP."
※1:

CloudTesting™Service(CTS)refers to a semiconductor testing service with a new concept that a testing environment suited to your needs can be used on demand by integrating the latest testing solutions with cloud computing. CTS is a test system with which you can build your own measurement environment suitable for measuring devices by combining a software called "Testing IP" that requires a monthly fee. So you can use necessary functions where and when needed.
Extensive achievements of test program development: CPUs, image processing ICs, communication ICs, AD/DA converters, and memory ICs(including flash memory and SD cards)

Our test solution services facilitate a transfer from tester environments (including MOST and TDL) of Advantest Corporation to CloudTesting™ Lab.

A total test environment, involving external measuring device control with BOST (Built Out Self Test) and GPIB (General Purpose Interface Bus), can be built up.

Tester rental service: CTS's testers installed in our company are available at your expense.
Reliability Evaluation Test Services
Assistance with Measurement Technologies
※2:

TDDB(Time Dependent Dielectric Breakdown)

※3:

TZDB(Time Zero Dielectric Breakdown)

※4:

HCI(Hot carrier injection)
Analysis/Observation/Diagnosis
Internal water-vapor content analysis of hermetic sealing package